If you or a loved one served in the U.S. Armed Forces and is experiencing a current condition or conditions as a result of an event, injury, or illness during active service, you are entitled to VA disability benefits. VA disability benefits are meant to provide you and your family with the support you need to cover the costs associated with the symptoms of your condition, a term the VA applies to disabilities and other long-term and life-altering symptoms.
The VA defines total disability based on individual unemployability (TDIU) as
part of VA's disability compensation program that allows VA to pay certain Veterans compensation at the 100% rate, even though VA has not rated their service-connected disabilities at the 100% level.
You complete the following simple equations to determine whether or not you meet the criteria. Essentially, you need to have a percentage equal to or greater than 70 for all of your disabilities combined, with one being at least 40 percent. For example, if you have a VA disability rating of 50 percent for depression, 40 percent for a low back condition, and 10 percent for tinnitus, you would meet the criteria. This example would give you a combined rating of 70 percent with at least one rated at 40 percent by itself. However, if you had a 30 percent rating for a knee disability, 30 percent rating for anxiety, and 10 percent for hypertension, you would not have a disability rating of 70 percent, so would not qualify for TDIU. Keep in mind that to meet the 40 percent requirement, you can combined disabilities to the same body part or system for purposes of meeting the percentage requirements. For example, 20 percent for the low back, 10 percent for the knee, 10 percent for the ankle, and 10 percent for bilateral flat feet. This would equal 40 percent for disabilities to the orthopedic body system. So, if combined with something else to equal 70 percent, would qualify a veteran for TDIU, assuming he was unable to be gainfully employed due to the service connected conditions. The other option to meet the percentage requirements for TDIU is if you are 60 percent for one disability. Again, the ability to combine ratings for the same body part or system can be utilized here as well.
&
or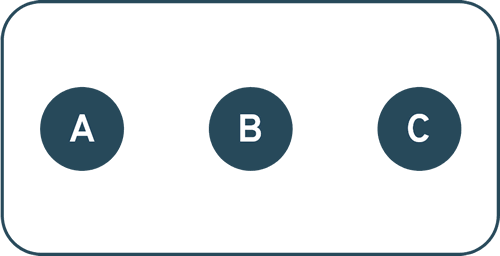 General Requirements for Total Disability
---
The general requirements for total disability are that you must have a combined rating of at least 70% with at least one disability rated at 40% by itself. Or, you must have one disability rated by itself at 60% disabling.
If you meet these percentage requirements and the service-connected disabilities are shown to prevent you from maintaining a regular job, then you probably have a strong case for total disability. Making your case requires the careful construction of your application, supporting documentation, and the argument that you present to the VA. It is important that you focus on the impact that your current conditions have on your ability to work, as the purpose of compensation through the VA is to replace lost economic value.
These are not the only circumstances under which you may qualify for TDIU. You may qualify for TDIU if any of your service connected disabilities keep you from being able to maintain gainful employment regardless of your disability rating.
These are not the only circumstances under which you may qualify for TDIU.
You may qualify for TDIU if any of your service connected disabilities keep you from being able to maintain gainful employment regardless of your disability rating. A medical professional with an understanding of the VA rating system must take the time to carefully review your medical and military records and to assess your current condition. When a medical or occupational expert confirms that your service-connected disabilities result in your being unable to maintain steady, gainful employment, you are eligible to receive TDIU. In many TDIU cases, the services of a good, qualified vocational expert can be the difference between winning or losing. Often, these experts are retained by the law firm representing you.
There are many complicated factors that go into winning a TDIU claim.
If you have never applied for TDIU before, the process can be intimidating, and that feeling is natural. The VA is a giant organization dealing with hundreds of thousands of claims at any given time. They are looking for specific information with your application and expect it to be there for approval to be granted. When your claim is denied or delayed, you can experience lengthy delays in receiving the full amount of benefits that you deserve. If you are unable to engage in gainful employment, it probably means that you are struggling financially and waiting for VA can be very taxing in your coping abilities.
It is very important that you be aware of these factors and if you need assistance, call our office at 888-878-9350 to learn more about how our attorneys can help you get veterans disability benefits. We'll explain what we do and how we help veterans like you. Our legal team is happy to discuss our success rate and present you with testimonials from our many satisfied clients.
Contact Our Attorneys Now.
100% Free Consultation
Find Out What Your Benefits Should Be
Use our disability calculator
Not all levels of impairment are created equal.
---
With a TDIU analysis, the VA looks at your particular circumstances to determine how the disabilities affect your ability to work.
A TDIU disability benefits claim is more subjective than a regular disability benefits claim based solely on a rating schedule meaning there is more room for interpretation in a TDIU disability claim. It is very important that you analyze your individual work and educational factors to determine whether or not your service-connected disabilities make you incapable of working.
The VA does NOT base its decision on the average person's ability to work. Instead, they work from the assumption that each Veteran is unique and your individual skills, work history and education should be considered in determining your ability to work.
Knowing what evidence to submit is important to consider when submitting your TDIU application. Educational history, prior work history, earnings history potential, and other factors are reviewed by the VA when assigning your VA disability rating. Making sure that this data is provided and factored into their decision is essential and something that comes with experience—working with a VA benefits attorney with a track record of success on TDIU claims. But VA cannot consider your age, We have won TDIU claims for veterans in their 90s.
In other words, what makes one Veteran totally disabled may not be the same thing that makes another Veteran totally disabled. It all depends on your individual circumstances.
For example:
If you were a concert pianist and you played the piano professionally, and you suffered an amputation of several fingers, this would clearly render you incapable of maintaining your occupation. On the other hand, if you were a truck driver, you could probably still work if you lost a few fingers.
Your initial consultation is free of charge, and if we take your case, we are only paid if we win. You are under no obligation to hire us if you reach out for an opinion, and to make the most of your meeting, it is helpful to have your VA forms and any denials or other communications handy. We'll take the time to consider your unique case and whether or not it fits with our firm. If we can help you, we'll explain exactly how our attorney-client relationship works and only move forward if and when you are totally comfortable working with us.
Want More TDIU
Related Content?
When Should I Apply for TDIU?
If you already collect VA disability but believe that your rating is not an accurate assessment of how disabling your service-connected conditions are, TDIU may make sense to apply for–if you are not engaged in full-time, gainful employment. The process can require the collection of extensive evidence and the perspective of your most recent employer, but the outcome can be valuable. You and your family receive monthly tax-free payments from the VA to replace the lost income that your disabilities cause, and when one or more are not rated accurately, you could be missing out on sizable resources for your household.
1
When you cannot maintain steady employment.
TDIU indicates a level of employability that is less than 100 percent. In practical terms, if you have a combined disability rating of 70 percent with at least one disability rated at 40 percent and these disabilities make in impossible for you to keep a job, then you would be well advised to seek total disability individual unemployability.
Keep in mind that the higher you are on the combined rating scale, the less difference adding additional smaller disabilities to your service-connected list of disabilities will make in your combined rating. Also keep in mind that if you are rated at 60 percent for one disability alone and this disability makes it impossible for you to keep a job, then you should also consider filing a claim for total disability.
2
When your disabilities make it impossible for you to earn more than the poverty limit.
TDIU does not require you to be incapable of doing any type of work but you must be unable to maintain gainful employment. Marginal employment is generally not considered to be gainful employment and it should not prevent you from getting a rating of total disability individual unemployability. Marginal employment is defined as an earned annual income that does not exceed the poverty threshold of $12,880 (as of 2021). In general, the Veterans' Court has interpreted the term "substantially gainful occupation" as meaning an occupation that provides the Veteran with an annual income that exceeds the poverty threshold for one person, irrespective of the number of hours or days that the Veteran actually works.
3
When any service-connected disability meets the TDIU minimum requirements.
There are times when you have a TDIU claim and you may not even be aware of it. There is automatically an implied claim for total disability when a claim for an increased rating meets the minimum requirements for total disability and the disabilities are service connected. In other words, if you were granted service-connection for a disability rated at 60 percent disabling by itself and the evidence before the VA also shows that this disability renders you incapable of gainful employment, then we recommend that you appeal for a higher rating and assert TDIU.
Call our office toll free at (888) 878-9350 for your free case evaluation for your TDIU claim.
Evidence to Include in Your TDIU Claim
Comprehensive Medical Records
Medical opinions are the most important evidence you can submit with your VA disability application or TDIU enhancement. Doctors who have had the opportunity to review your health and well-being and witness firsthand the impact of your service-connected conditions on your life overall are highly valuable. While nexus letters directly support your claim for service connection, providing your medical history and assessment from providers over time can also help the VA determine what a current and accurate VA rating for your condition is. In TDIU cases, having a good documented history of severe symptoms and levels of impairment is most important.
Disability Statements from Healthcare Providers
A disability statement is a medical opinion that has taken into account evidence of your condition and determined what level of disability it is likely to result in. It will generally include an assessment of your condition and the limitations that it imposes on your life. These may be more general statements that you'll receive from a vocational expert, but they can still serve as an important part of your overall VA disability application.
Vocational Evaluations
We have a network of vocational experts available who can review your medical conditions to determine how they impact your capacity to do the work you are qualified to do. The assessment for each individual veteran is unique, and it is important to work with experts who understand the unique experiences of veterans.
Supporting Documentation to Demonstrate Inability to Maintain Substantial Gainful Employment
The ability to work an occasional odd job is not enough to defeat a TDIU claim. To deny TDIU, VA must be able to show that you are capable of maintaining steady and gainful employment sufficient to maintain yourself and your dependents above the poverty threshold. Conversely, when this is not possible, you can submit statements in support of your claim for TDIU, and if you meet the percentage requirements and your inability to sustain gainful employment is due to the service connected disabilities, the claim will likely be granted. These can include statements from former coworkers who have witnessed how your service-connected conditions impact your ability to work and be productive on the job.
While a statement from your most recent employer is required for your TDIU application, you can also submit additional statements from other employers in support of your application as well. There are VA forms for this purpose.
The Difference Between a Schedular Rating and a TDIU Rating
To qualify for TDIU, a veteran must generally demonstrate that they are unable to secure and maintain gainful employment due to service-connected conditions and their symptoms. This, as noted, can be available when you are at a 70 percent rating when other aspects are also met. Not all 100 percent ratings, however, directly consider the impact of your disability on employment.
A 100 percent schedular rating is rooted in the severity of your service-connected conditions as they are defined by VA rating criteria. The primary difference between TDIU and your schedular rating are the requirements that you must meet to achieve them. You can be assigned a 100 percent schedular rating in 2 situations:
You have one service-connected condition that meets the 100 percent rating criteria specified for that condition
A veteran must have multiple service-connected disabilities, the sum of which combines to 100 percent or more
When you do not meet the 100 percent schedular rating, but your disability or disabilities together make it so that you are unable to maintain steady employment to support yourself and your family, you may be eligible for TDIU. To be eligible for TDIU, you must be unemployable as defined by the VA. This means that as a result of your service-connected disabilities, you cannot maintain gainful employment.
The Process of Filing for VA Disability and TDIU
Once you have gathered sufficient evidence to support your claim for TDIU, you'll need to plug that evidence into your applications to the VA. Expert evidence and well-constructed supplemental claims and appeals are easier for the VA to understand and can process more efficiently. The following forms are essential to collect VA disability and apply for TDIU:
VA Form 21-526EZ - Application for Disability Compensation and Related Compensation Benefits - This form is the basic application for your disability benefits and is often completed by the veteran with the assistance of VA-accredited helpers from the VA or from VSO's from related institutions. It is important to understand that VA-accredited attorneys and agents will generally not be involved in the initial portions of your application. While you may encounter companies claiming to be "veterans benefits coaches" and offer help filling out your application, know that you can get the help of a VA-accredited assistant for free from a variety of veterans' advocacy agencies. No organization or person should be charging fees for assistance with initial claim applications. This is considered unethical and legislation has been introduced in Congress to potentially impose criminal penalties on those that engage in this practice. Once your claim is denied, then you can hire a paid attorney for the appeal process.
VA Form 21-8940 - Veteran's Application for Increased Compensation Based on Unemployability - If your VA disability rating is at or above 70 percent with at least one condition with a 40 percent or higher rating, then this form may be able to raise the amount of your compensation to the 100 percent rate. This can equate to quite a bit of tax-free income going toward your household, and the evidence that you submit with your application will determine whether it is approved or if you need to appeal.
VA Form 21-4192 - Request for Employment Information in Connection with Claim for Disability Benefits - Applying for individual unemployability is not as simple as submitting two forms, but you also need to get the feedback of your most recent employer through this form. Your prior employer is required to fill this form out completely and return it to the VA, which explores how the symptoms of your condition or conditions have negatively impacted your ability to work and be productive while at work.
TDIU is available for persons who are unable to perform day-to-day obligations without assistance and who are completely unable to maintain steady employment to support themselves and their families.
Betrayal of Valor
An exposé of a horribly flawed veteran's administration
TDIU Benefits Claims & Appeals Guide
How Can Gang & Associates Help Me
Get Disability Benefits?
Even if you do not meet the percentage requirements for TDIU, you should still consider a total disability claim if your service-connected disabilities render you incapable of maintaining a gainful occupation. It is true that VA is very reluctant to grant TDIU claims in situations where a Veteran does not meet the percentage requirements but the law allows for consideration of these TDIU claims on an extra-schedular basis. It just means that to win such a claim you need very strong evidence from a vocational expert and probably several medical experts as well. Also, your work circumstances must be very unique to justify granting such a rating.
As a general rule, we strongly recommend that Veterans contact our office about making a claim for TDIU in any circumstance where their service-connected disability makes it impossible for them to maintain regular employment. We can put you in touch with medical and vocational experts who can help us make a strong disability benefits claim for TDIU.
You should also keep in mind that VA is not allowed to consider non-service-connected disabilities when determining TDIU. So in developing your TDIU claim, you must be able to separate the service-connected disabilities from the non-service-connected disabilities. This often means constructing a hypothetical analysis in determining whether or not the service-connected disability, standing alone, caused the Veteran to be unable to work. This is a complicated task and an area where an experienced veterans benefits attorney can be extremely valuable.
Our Network of Medical and Mental Health Professionals is Here to Help
You might wonder where to begin when finding a doctor to review the symptoms of your service-connected disability and fill out VA Form 21-4138, Statement in Support of Claim, to express their expert opinion that your current condition is linked to your active service. This statement from a medical expert is generally referred to as a nexus letter and provides you with essential evidence that the VA needs to see to approve your claim.
In the nexus letter, the medical expert is expected to grade the likelihood that your condition is connected to an event, injury, or illness during your active service on the following scale:
Not likely
At least as likely as not
More than likely
Highly likely
When the medical expert determines that your current condition is linked to your qualifying active service, at least as likely as not, the VA will generally approve your claim. It is important that the medical expert understand this scale and use it when providing the assessment for the VA to review. Not all medical experts are familiar with the VA scale, and it can be difficult to book those who are, as they are in high demand. In the TDIU context, a medical nexus opinion will focus on whether it is at least as likely as not that your service connected conditions render you incapable of maintaining gainful occupation.
Our VA benefits law firm has been focused on helping clients like you for decades, and over that time, we have cultivated strong relationships with medical experts in legal markets across the United States. We will help you get scheduled to see a medical expert with the qualifications to accurately determine whether your condition is service-connected or causing your unemployability, and the experience to draft your nexus letter in a way the VA will understand.
In general, our law firm fights for TDIU with strong evidence from a vocational expert to analyze your work history, your education, and your training. We look to determine whether or not the service-connected disabilities out-weigh your ability to perform the tasks necessary for your profession. We can also help you support these claims with strong medical opinions from medical experts who are of the opinion that your disabilities render you incapable of maintaining gainful employment.
Why Hire a Veterans Benefits Attorney?
If your VA disability claim has been denied, you have the right to hire an attorney, but choosing one can often be difficult. There are many options on the market, and oftentimes, less experienced or successful attorneys are faster to take on new cases, cases they might not be entirely qualified to handle. According to the American Bar Association, the number one factor to look out for when hiring an attorney is their experience. Our attorneys have decades of combined experience advocating for the rights of veterans seeking the disability ratings and benefits that they deserve for their active service injuries from the VA.
Connect with TDIU Lawyers for Help with Your VA Disability Rating
If you are in a situation where your service-connected disabilities make it impossible for you to keep a job, then we strongly urge you to contact our office to discuss the ways in which our law firm may be able to help you win TDIU veterans disability benefits.
Call our office toll free at (888) 878-9350 because you no longer have to "go it alone."